FRIENDS OF LATE DELE AGEKAMEH
BURIAL PLANNING COMMITTEE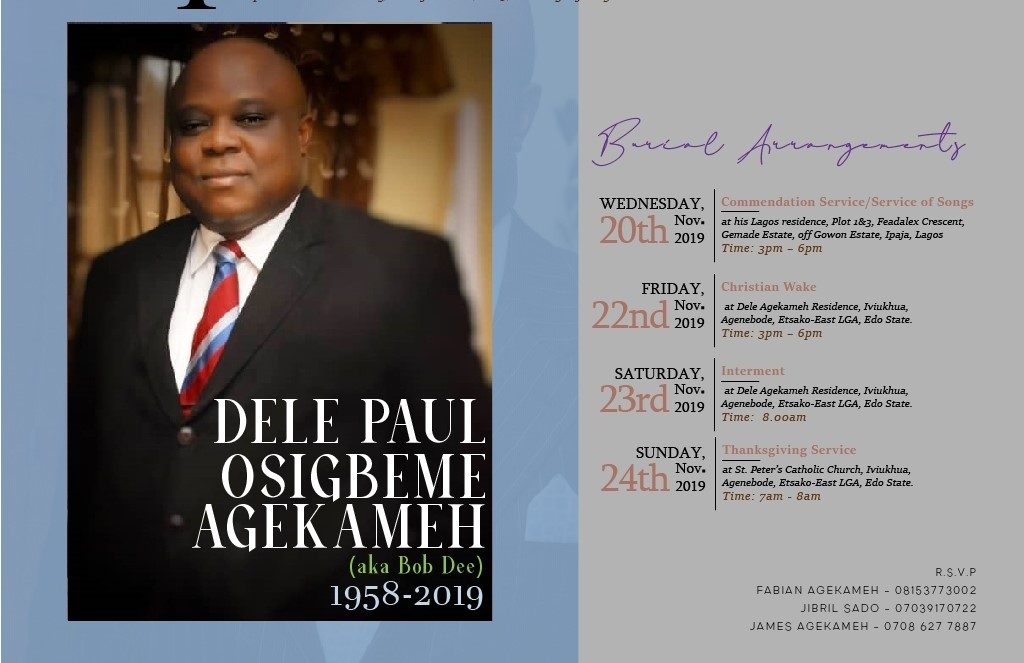 "In the end, it's not the years in your life that count. It's the life in your years". Abraham Lincoln
The sad news of the passing away of our dear friend Mr. Dele Agekameh on the 10th of October 2019, was a rude shock. Dele was a friend and a close associate to lot of people in different walks of life.
He was a consummate and award winning investigative journalist who distinguished himself in his chosen carrier. A prolific writer and columnist, his glittering career traversed several media houses from the Champion Newspapers, Tell and The Nation Newspapers until his demise. As a founding member of the National Think Tank and other numerous associations that Dele was a member of (see full list below). Dele meant many things to us as a friend, associate and professional colleague.
Dele's final rites of passage as announced by the family will commence with the wake keep at his residence in Lagos. As friends of our beloved Dele, it is our duty to provide a shoulder for the family he left behind to lean on by encouraging them to be strong at this very difficult time. According to Chuck Palahniuk" We all die. The goal isn't to live forever, the goal is to create something that will".
Tributes and condolences should be via mail to planningcommitte2019@gmail.com cash and other financial support should be paid to: Dele Agekameh. 0073422889 Access Bank Plc.
Please send your name and contact details if you wish to be part of the planning committee.
For further enquiries please contact planningcommitte2019@gmail.com 
Thank you and God Bless.
Signed;
Hon. Professor Steve Azaiki (OON)
Member federal house of representatives,
National Assembly,
Abuja.
Chairman
DELE AGEKAMEH
CEO, QUICKLINK INTERNATIONAL NETWORK
PUBLISHER, THE CAPITOL INTERNATIONAL MAGAZINE
FORMER SENIOR ASSOCIATE EDITOR, TELL MAGAZINE (1991-2004)
VICE-CHAIRMAN, COMMONWEALTH JOURNALISTS ASSOCIATION, CJA
SENIOR MEMBER, AFRICAN PUBLIC RELATIONS ASSOCIATIONS, APRA
MEMBER, NIGERIA GUILD OF EDITORS, NGE
ASSOCIATE, ADVERTISING PRACTITIONERS COUNCIL OF NIGERIA (APCON)
FELLOW, INSTITUTE OF STRATEGIC MANAGEMENT NIGERIA, ISMN,
FELLOW, NATIONAL INSTITUTE OF MARKETING OF NIGERIA, NIMN
NATIONAL DIRECTOR, MEDIA/PUBLIC AFFAIRS, NATIONAL THINK-TANK.
HONORARY MEMBER, NATIONAL ASSOCIATION OF RESIDENT DOCTORS (OF NIGERIA), NARD
COLUMNIST, THE NATION NEWSPAPER,
COLUMNIST, PREMIUM TIMES
MEMBER, NATIONAL UNION OF JOURNALISTS
MEMBER, ENTREPRENEURS' ORGANISATION
MEMBER, USAGBE CLUB OF NIGERIA