THOUGHTS ON NIGERIA
Speeches, Letters and Essays
Thoughts on Nigeria, is an intellectual companion, a collective story of Nigeria's challenges, progress and people.
The book has chronicled various happenings in Nigeria in the last few years, especially on politics and governance, corruption and Nigeria's missed opportunities.
The book also tells the story of influential figures in the history of Nigeria, culture, education, politics and governance.
A collection of essays, articles and speeches, it documents the acts of terrorism by Boko Haram, youth, education and also covers inspirational stories of some notable individuals in our society and dominant issues in the Nigerian discourse.
The book captures the complex nature of a rapidly changing country through a compassionate and empathetic treatise.
This book is indeed, an inspiring gift of hope about a country so blessed, yet her people live in abject poverty in the midst of plenty.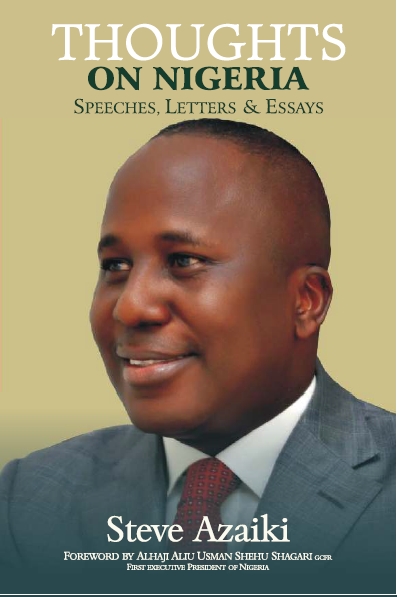 ABOUT THE AUTHOR
Professor Steve Azaiki is the President of the International Society of Comparative Education, Science and Technology Nigeria and Chairman of the 2014 and 2015 ISCEST Nigeria International Conference. He serves on the governing boards/councils of a number of organizations including Federal University of technology, Akure, Ondo State, Niger Delta University, Wilberforce Island, Yenagoa, Bayelsa State. He is also a visiting Professor/Fellow to a number of institutions including Institute of Petroleum Studies, University of Port Harcourt, Rivers State, Nigeria. International Personnel and Management Academy Kiev, Ukraine and Chairman of Board of the World Environmental Foundation For Africa, WEFFA
He holds a PhD in Agriculture and is currently a Professor of Plant Protection in Agronomy at the Institute of Potato Research, Ukranian Academy of Agricultural Sciences, Nemishaeve, Ukraine.
Prof. Steve Azaiki is a recipient of Nigeria's National Honour, OON and currently the Coordinator, National Think Tank Nigeria.